Verlag für Geschichte
der Naturwissenschaften
und der Technik
Inventing Synthetic Methods to Discover How Enzymes Work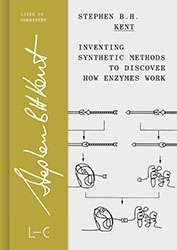 Stephen B. H. Kent
Inventing Synthetic Methods to Discover How Enzymes Work
(Lives in Chemistry – Lebenswerke in der Chemie)
336 pp, 267 fig., hardcover, in slip case, 39,80 €
ISBN 978-3-86225-129-2
Creative "cheating" led Stephen B. H. Kent, born in 1945, to solve one of the Grand Challenges of 20th Century chemistry: the total synthesis of protein molecules. Twenty-five formative years in his native New Zealand had prepared him in manifold ways. Vigorous debates at the family dinner table, combined with secondary school classes in Kantian moral philosophy and the discipline of competitive distance running influenced his later successes in scientific research. As a university undergraduate he was fascinated by the ability of enzymes to catalyze chemical reactions and set out to gain the experience to understand how they did it. Steve loved to experiment and didn't leave the bench for many years to come. Keep it simple, be counter-dogma and ignore the opinions of referees were his guiding principles. Read how his ambition to understand the chemistry of enzyme catalysis led stephen kent to the United States and about his adventures there in science and everyday life.
Sicher bestellen auf


E-Books sind über die Reihen-Website l-i-c.org erhältlich!
Die autobiographische Reihe "Lebenswerke in der Chemie" gibt Einblicke in das Leben und Denken herausragender Forscher im Spiegel der Zeit. Welche Rolle spielt in der chemischen Spitzenforschung die ununterbrochene Folge von Hypothese, Experiment und Interpretation, welche Rolle spielen die Impulse von Mentoren, Mitarbeitern und Studenten oder auch die von Konkurrenten? Erfolgreiche Wissenschaftler beschreiben authentisch und persönlich, wie Neues in den Naturwissenschaften entsteht.
© 1997-2023 GNT-Verlag · ALL RIGHTS RESERVED.
https://www.gnt-verlag.de/stephen-kent-autobiographie-2-1129.html (Stand: 29.09.2023. 20:44)
GNT-Verlag GmbH
Schloßstraße 1
D-49356 Diepholz
Telefon +49 (0) 54 41 / 594 7978
Telefax +49 (0) 54 41 / 594 7979
info@gnt-verlag.de
www.gnt-verlag.de